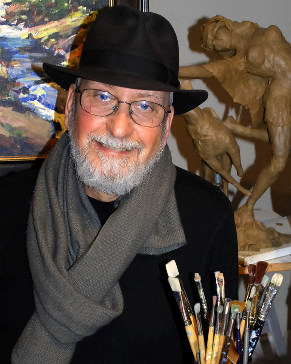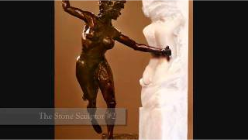 Painter, Sculptor, Writer
In 1968 Michael attended the Columbus College of Art and Design and in 1972 received his BFA in advertising design. Taking his degree, Michael and his Canadian wife went to Vancouver B.C. Canada in 1973 where he started out on a successful forty plus year international career in advertising design. In 1986 Michael relocated to Portland, Oregon with his family and in 2002, Michael and his wife Nancy settled in Cannon Beach.
As Michael Tieman sees it, "The role of an artist from the dawn of time has been as a visual storyteller. The stories my paintings and sculpture tell are ones of confidence, strength, passion, playful sophistication and the celebration of life."
Tieman has sketched and painted since childhood and has spent over six decades as a working artist, both as a graphic designer and a fine artist. Following the encouragement of a gallery owner, Michael expanded his talents into bronze sculpture. Tieman's sculptures are unique in that they are a combination of traditional figurative sculpture and his Impressionistic painting style.
"I create my bronze sculpture as a three-dimensional painting, texture becomes the Impressionistic impasto brushstroke, color is the play of light and shadows across the surfaces, and detail is the impression of movement."

YouTube Links for Michael Tieman




YouTube 3:10
The Building of "Courage" sculpture by Michael Tieman
A sculptural tribute to those battling Cancer. This is "Courage" going through the foundry and becoming a 36" bronze sculpture. A portion of the sale of this piece is donated to Cancer Support Services. To see more on "Courage" go to www.courageforcancer.net



YouTube 3:50
Colors and Shapes with Michael Tieman
An excerpt of a video produced by Artistic Documentries on some of the artists of the Oregon North Coast. In this interview with Michael, he explains why he is an artist, his creative process, and his philosophy of art and life.
YouTube 3:57
Michael Tieman - Painter The Paintings of Michael Tieman
You Tube 3:00
Michael Tieman - Sculptor
These are the bronze and stone sculptures of Artist Michael Tieman. The pieces are a "Celebration of Life" in the traditional figurative style of sculpture.
Find out more about Michael as a Graphic Designer