Spirit Of The Sea
This is a very special piece. It was meant to be a life size bust of another of my sculptures, Windswept. Trouble is, she did not want to be a copy, she wanted to be an original piece. Her spirit guided my hands when sculpting, and when I was in the foundry with her, she decided what her color was and the angle of her head. The muse was guiding me, and I just went along for the ride.

Sold Out

14" Bronze
Limited Edition 20
Venus Abstracted
When I got this piece of raspberry and cream alabaster, the rough way it was cut inspired this abstract female figure. I only partially carved and polished this stone as I loved the contrast between the finished and unfinished stone.

Call for $
18" Alabaster Stone
Carving
N/A
20" Bronze
Limited Edition 10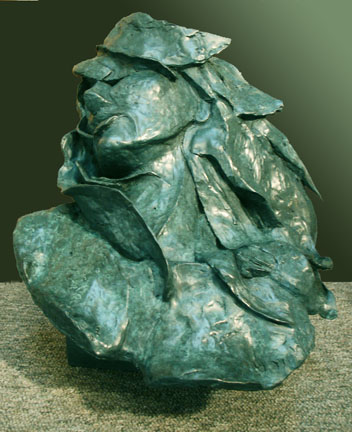 Inside Every Woman
The name of this piece came from a song written about "Juanita" who opossessed the qualities of all women. This I hope is that visual interpretation of Juanita ... beauty, grace, charm, sophistacation and confidence. All of the qualities inside every woman.

Behold The Gift
This is a piece that the foundry said could not stand up. I explained my math was better than theirs. Surprise, she defies gravity in her stance. If she were real, all of her weight is on the bent knee as she kneels on the rocks. The question is what is the gift she is offering?

Call for $
20" Bronze
Limited Edition #3/10